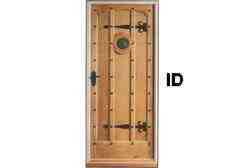 Exterior Door 1D
Traditional Doors are craftsman-made to exceptional standards from top grade selected hardwoods.
The range includes a variety of attractive designs, both period and modern, providing something to enhance every home.
Door furniture (such as lever handles, letter plates, knockers, etc) are extra.Traditional Doors can usually be supplied in a choice of three timbers European Oak, Iroko and sapele.
© 2019 Chislehurst Doors Ltd. All Rights Reserved
Website designed, built and maintained by The Web Cr8R
Thank you for your enquiry. A representative from Chislehurst Doors will contact you shortly.